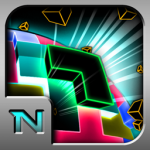 Well its official, Shatter Crash has been submitted to Apple!! Countless hours have gone into creating this game and it's time for a slight sigh of relief and trepidation as we push our baby out of the nest. The work doesn't stop for us though, it simply changes the direction of our effort.
We have partnered with Mitch Gross to aid in our marketing effort, but the wild west nature of the app store makes it difficult to get noticed. We appreciate any effort that you make to help us to spread the word of Shatter Crash. Any word of mouth, Facebook sharing, and retweets are extremely helpful for us and we appreciate those that have, any little bit helps! We would like to give a special thanks to Josh Fairhurst and Ben Moore at Mighty Rabbit Studios for sharing some insight that they learned about the exhaustive process of marketing their immensely fun Saturday Morning RPG.
Our art staff is still hard work wrapping up some additional marketing flair. Justin Johnson is working on an epic marketing video that we will release soon and Kyle Hagen is working on an official trailer for Shatter Crash, which is sure to impress!
There is numerous game improvements that we want to make to Shatter Crash and we plan on starting on those relatively soon, so expect a nice little update after Shatter Crash is released.
We expect Apple to take about a week to approve Shatter Crash. We are still on track to hit our release target date of July 19! Please help us spread the awareness of Shatter Crash so that we can keep this dream alive. Thank you for all of your support, we could not have done it without you!